Affordable, rapid, local
organic waste infrastructure

Over
1,000,000 lbs

processed each month
A better organic waste solution
Most cities generate more organic waste than they can process, leaving it to rot in landfills and generate greenhouse gases, or shipping it out of region by truck or train.
Most technologies are often too costly, while traditional processing methods can only operate outside populated areas due to high odors and low air quality.

Lower Costs
1/3
THE CAPEX
Our organic waste systems can cost as little as 1/3rd the CAPEX of other solutions, making it budget friendly for most municipalities and private waste services.

Simpler Design
0
MECHANICAL AGITATION
Our proprietary, in-vessel composting system uses 100% aerobic digestion with NO mechanical agitation. Less moving parts means less maintenance.
We've built a better way.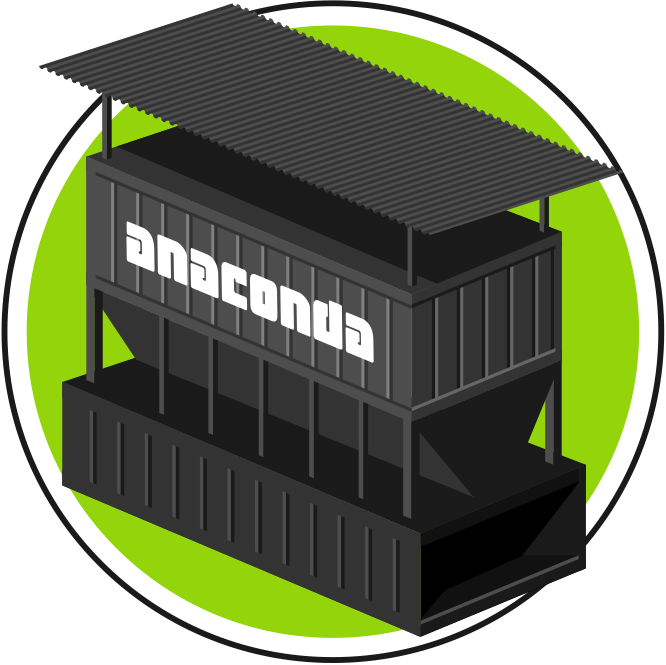 Shorter Process
96 HR
DIGESTION
Process more organics at a higher speed. Our enclosed design and assembly line process allows for revolutionary high-speed throughput and processing-up to 1/9th the standard processing time.
Smaller Footprint
3.5
ACRES
Process over 30,000 tons of organic waste per year in less than two city blocks. That's 87% smaller than most facilities, meaning it can fit almost anywhere and scale to your needs.
The Anaconda Advantage

Affordable
Our patented system fits the budget of nearly any public or private waste infrastructure, and give buyers more control over where their waste is hauled and how it is processed.

Rapid
Our patented process and enclosed design transforms organic waste into a nutrient-rich, contaminent-free supplement in a matter of days, not weeks.

Local
A small size, low smell and short cycle means big opportunity. Place our systems in urban centres to minimize secondary handling and transport costs while maximizing efficiency.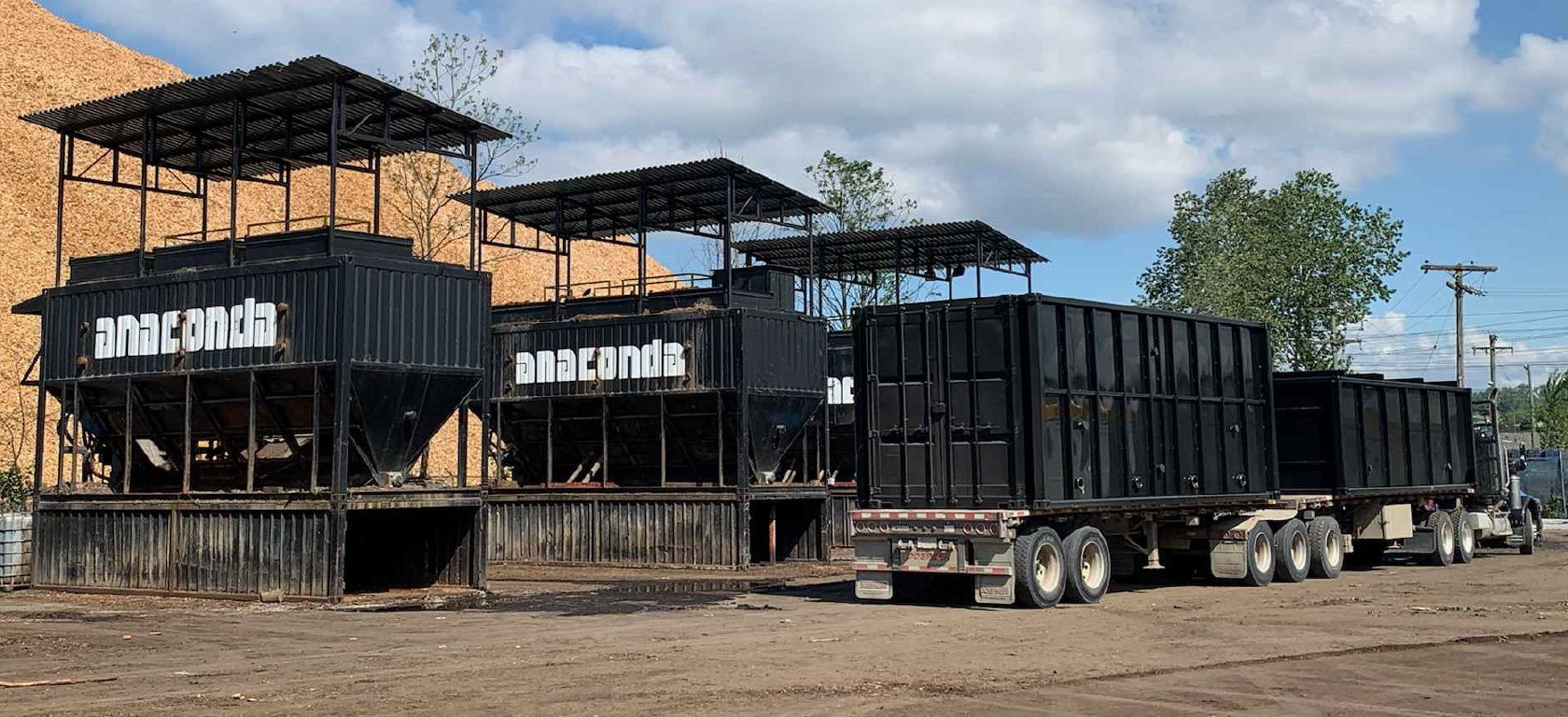 Low numbers, big results.
Anaconda's patented process is a game changer for anyone who wants their waste infrastructure to be cleaner, faster, smaller, greener, and more affordable.
| | | | | | |
| --- | --- | --- | --- | --- | --- |
| | Classic Enclosed Windrow | Anaconda In-Vessel | Traditional Anaerobic Digestion | Anaconda In-Vessel | Classic Enclosed Windrow |
| SMELL | High | Low | Moderate | Low | High |
| CYCLE | 90+ days | Under 10 days | 60+ days | Under 10 days | 90+ days |
| LAND USE | 100 acres | 3.5 - 5 acres | 20 acres | 3.5 - 5 acres | 100 acres |
| CAPEX | $200/MT | $400/MT | $600/MT | $200/MT | $400/MT |
Where food security matters, Anaconda delivers.
Organic waste to fertilizer in
under 10 days.
1
Collect, transport and tip waste without leaving the city. Plus, Anaconda's convenient location allows for convenient mid-route tips.
2
Tip at your organic waste facilities located in Industrial zones. No long trips to the country, no shipping out of the region.
3
The organic waste is processed in just 96 hours. Use the high quality fertilizer supplement in local parks and farms.
4
Close the loop! Organics grown with our compost benefit the community, then are composted at our facility, completing the cycle.
>99.8%
CONTAMINATES REMOVED
Our patented process took a decade to perfect, and is guaranteed to produce top quality fertilizers from even the most compromised organic waste.
0%
ENVIRONMENTAL RISK
Virtually no smell, no chance of soil or groundwater contamination, and very little GHG emissions. It's a smarter, greener way to compost.
100%
RESPONSIBLY LOCAL
No shipping to other regions, no wasteful trucking to rural landfills. Collect, process and benefit within the local community.
+25%
LANDFILL LIFESPAN
Around 25% of an average landfill's contents is organics. Processing organic waste will save space and extend the life of your landfill.
How It Works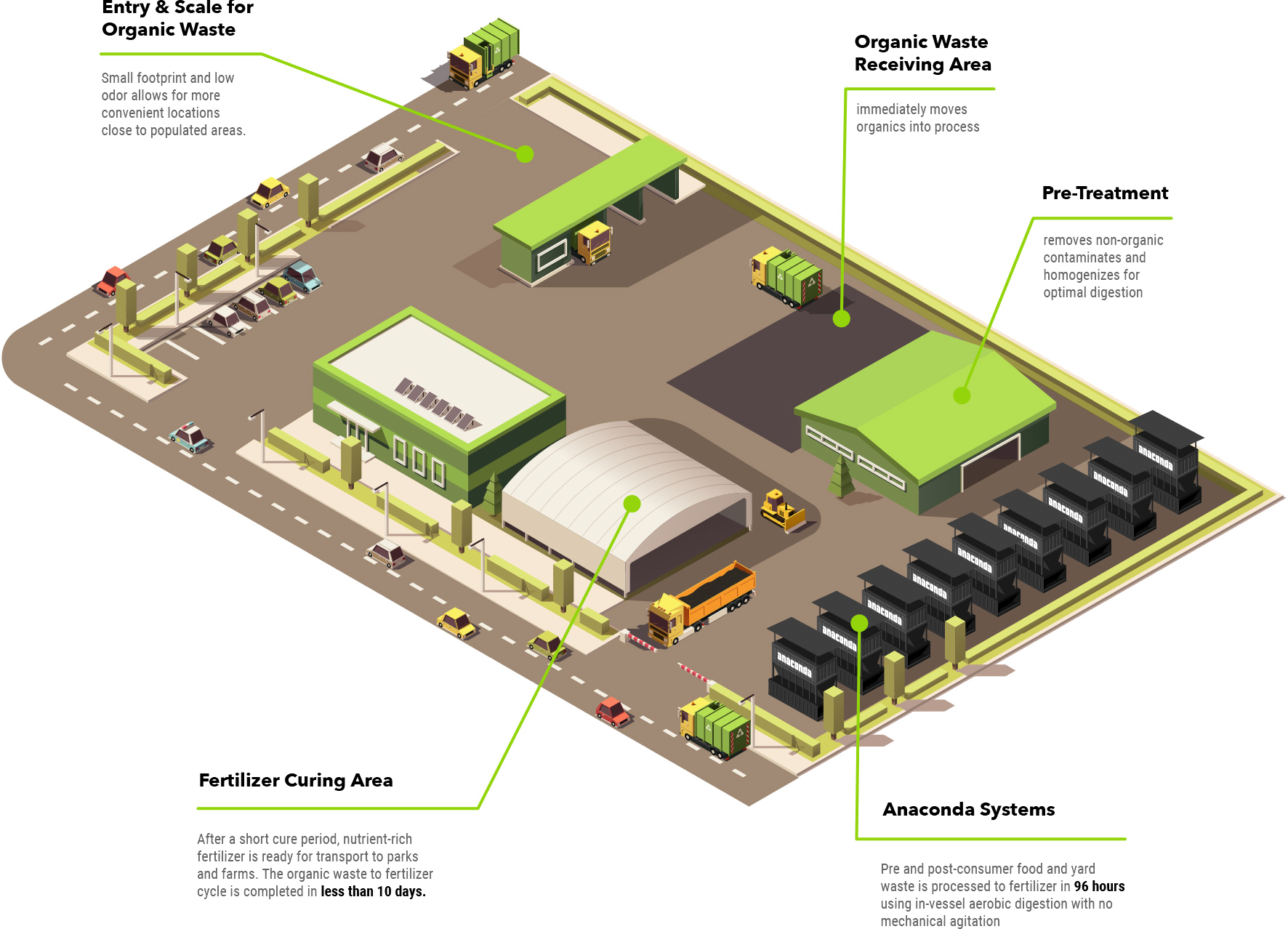 Seamlessly Integrates
with your existing infrastructure
Fully Compatible
with all waste trucks and routes
No Smell, Small Size
allows for in-city tipping and processing
Frequently Asked Questions
Most composting facilities use a windrow process. Why is the Anaconda process better?

Anaconda uses a patented pre-treatment and in-vessel digestion process. The pre-treatment process is the result of years of research to thoroughly and efficiently remove contaminants and homogenize the organic material for consistent, trouble-free digestion. The in-vessel digester monitors and controls the optimal aerobic environment creating the perfect environment for the rapid breakdown of organic waste. The result is a richer, cleaner soil amendment in just 96 hours without any mechanical agitation.

How is Anaconda different than anaerobic digestion solutions?

Anaerobic digesters are designed to produce biogas from sludge, manure and other organic waste, which is then used to generate electricity. But it's not a perfect solution. Urban organic waste is contaminated with plastics and mixed with yard waste, making it a poor feedstock for anaerobic digestion and biogas production. In comparison, Anaconda's technology is specifically designed for the challenges of urban organic waste. Our goal product is not electricity but a high quality soil amendment-a natural by-product of organic waste-so our process is less complex and capital intensive.

What are the common uses of the output?

Our short, <10 day production cycle ensures a soil amendment that is rich with live nutrients, perfectly suited for food production at local farms. It is also excellent for municipal green space or landfill cover.

What is the vision for rollout, and how do I get started?

Anaconda provides turnkey organic waste processing facilities. With reduced construction and stand-up times, your facility will have quicker payback and return on capital. We can design, fabricate, install and commission both large and small scale facilities.

Can I see it in action?

Yes! Contact us to schedule a visit at our facility.
About Us
A little company with a big impact.
Anaconda Systems is a leader in designing and implementing safe and reliable organic waste management systems. Born from a decade of research and development, our low-impact, in-vessel systems offer unprecedented opportunities for municipalities and private waste services to take more control, increase efficiency, and improve the economic impact of their waste handling infrastructure.
Our pilot facility in Vancouver, BC opened in 2017 and now processes over 1 million lbs of organic waste each month with the potential to reach over 4 million lbs. Located mere blocks away from residential communities on just 3.5 acres of land, it has become an important part of the city's waste processing infrastructure and its commitment to using local, green and forward-thinking solutions. Our early success promises a bright future ahead for anyone looking for affordable, rapid and local organic waste infrastructure.
Office & Main Facility


8601 Main Street
Vancouver, BC V5X 4N6

604.630.5811
Learn how we're helping communities improve their waste infrastructure